Cubiio Compact Portable Laser Engraver
Capture your ideas and memories forever with the Cubiio Compact Portable Laser Engraver. Designed to go wherever you go, this device actually lasers designs onto virtually any surface. Cubiio fits in the palm of your hand and offers full app control. Simply upload your design, align the laser, and hit play. In addition to uploaded designs and images, you can also draw and create your own. Cubiio works with paper, cardboard, fabric, felt, leather, wood, non-transparent acrylic, and even metal. The laser engravings take just minutes. In fact, you can laser engrave your name on a wooden spoon in only three minutes. Thanks to the compact design, you can use Cubiio in tight and small spaces. It's perfect for adding your name, your logo, or a touch of fun to everyday items.
Product Description
How to Use Cubiio?
Cubiio is controlled by Cubiio App wirelessly. After receiving your Cubiio, please download Cubiio App from Apple Store or Google Play. Next, follow 4 easy steps:
1. Choose a picture / G-Code file or write something in Cubiio App.
2. Place the item you want to engrave in the working space of Cubiio.
3. Preview and align. This convenient feature will be described later.
4. Press START and enjoy.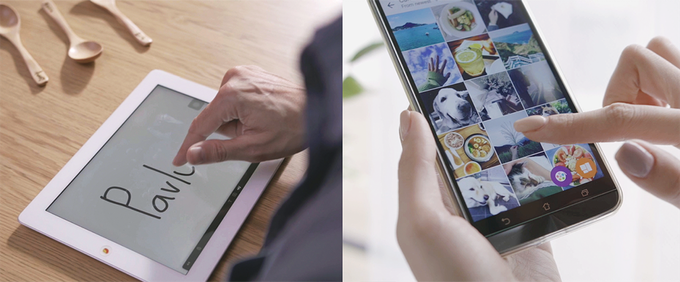 How to produce G-Code? G-code is a common machine language which is converted from vector graphics. We recommend the free open-source software – INKSCAPE, in which you can design vector graphics and generate your own G-Code files. Run the G-Code files on Cubiio like other laser engravers do. More detailed information will be available in Cubiio instructions. Cubiio also provide Preview function for better user experience.
Safety
Undoubtedly, any laser device might be harmful. Your safety is always our first priority. Cubiio has safety measures as below: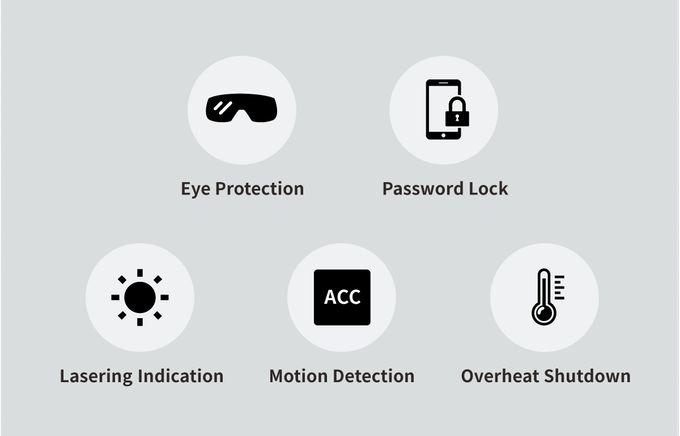 Eye Protection: Goggles are included in every Cubiio package. Always wear goggles while Cubiio is working. Do not look at the laser radiation even with the goggles.
Password Lock: Password is required before operating every time. Only authorized persons are allowed to use Cubiio.
Lasering Indication: A bright LED indicates when the laser is energized and operating.
Motion Detection: A sensitive 3-axis accelerometer is equipped. While accidental movement happens during operating, Cubiio will shut down immediately.
Overheat Shutdown: Cubiio should work in the environment with sufficient heat dissipation. If the inner temperature approaches to the damaging threshold, Cubiio turns itself off.
CubiioShield: Safety is priceless. We offer upgraded protection for users who have higher safety standard.A CubiioShield encloses laser inside but keep hands outside. It extracts and filters off the produced toxic fumes, harmful particles, and smell. We recommend venting the fumes to outdoor space. If you don't have the possibility to do that you will need CubiioShield. If you plan to enjoy the fun of Cubiio with juveniles, you need CubiioShield as well. There's also a built-in USB socket to power your Cubiio unit. Cubiio and CubiioShield are undergoing the laser certification process of IEC60825-1 and FDA CDRH. We will announce the result once the certification is obtained.
Specifications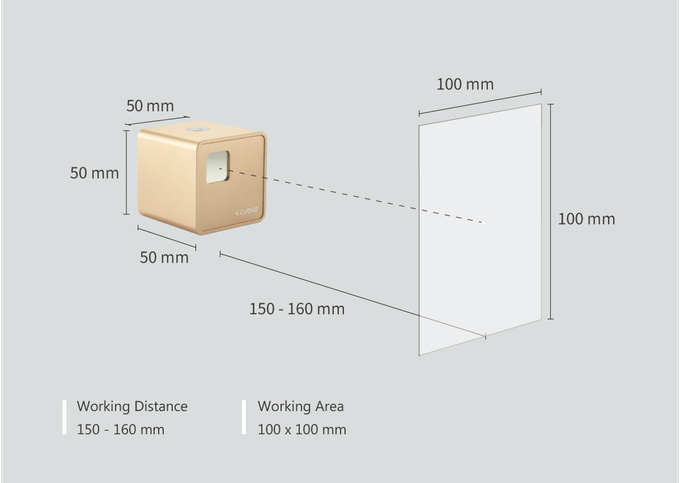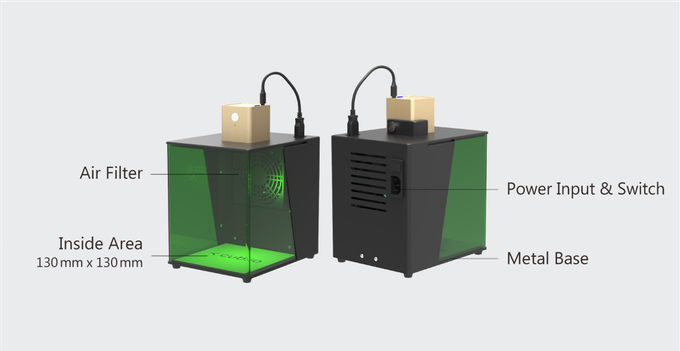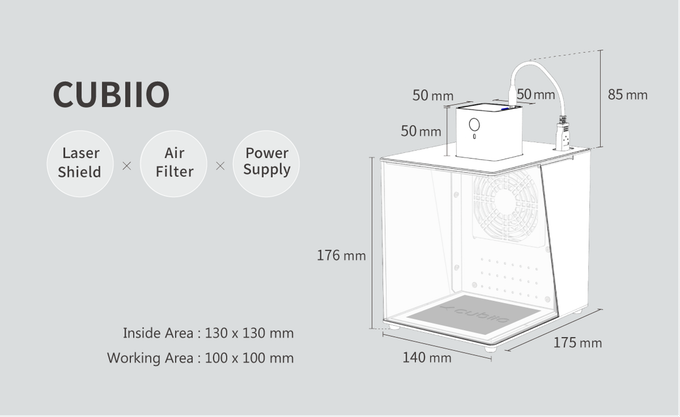 Weight: 1.3 Kg (Laser Module 150 gram)
Laser Source: OSRAM semiconductor blue color laser
Lifetime Estimation 10000 hours
Laser Output: 100 level adjustable
max 800 mW with CubiioShield; max 500 mW w/o CubiioShield
Routing Speed: 2000 mm/min maximum
Resolution: 152 – 254 dpi adjustable
Finishing: anodized aluminum
Color Option: red, black, dark bronze, gold, and blue
Screw Mount: 1/4″-20 UNC for standard tripods
I/O: Micro SD card
Supported File Format: bmp and G-Code
App Connection: BLE (Bluetooth Low Energy)
App OS: iOS 10+ / Android 4.4+
Filter: Active Charcoal + Zeolite
Power Input : AC 85-264V, 47-63Hz
Laser Source Power Requirement: micro USB DC 5V, 2A
Power bank (5V, 2A) supported, but not included
Details of Laser Module:
Technology Inside Cubiio
Cubiio consists of a semiconductor laser source and two current-driven mirrors in order to deflect the laser beam along X and Y axes. The embedded CPU translate your sketches into digital commands to tilt mirrors particularly. Then the focused laser spot will be projected to the target surface along the designed trajectory. Aforementioned mechanism is so-called "galvanometer," which can be further studied in Wikipedia.Read more..